1 March 2021, KAZAKHSTAN – "The publication "A matter of importance: your reproductive health and reproductive rights", developed by "Shyrak" Association of Women with Disabilities together with the United Nations Population Fund (UNFPA) and with financial support from the UK Government, is now available in Braille for people with visual impairments, as well as on audio discs.
The books were sent to 34 specialized libraries and boarding schools for visually impaired people. A detailed list of institutions to which the materials were sent can be found in the document attached to the press release, and the electronic version of the publication is available on our official website in Kazakh and Russian.
The resource material is designed to provide women with disabilities with information on sexual and reproductive health including family planning and their rights to decide freely if, when and how many children to have. It also aims at making services and information more accessible to them and be more adapted to the special needs of women with various types of disabilities.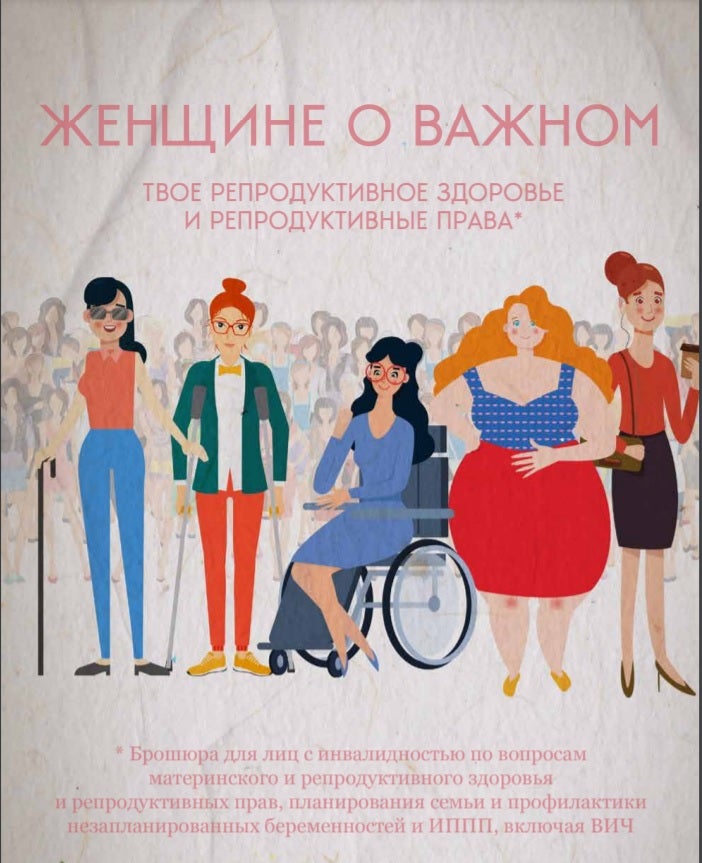 "From birth to old age, people with disabilities face a number of challenges concerning their reproductive health and reproductive rights. While the focus is often on physical obstacles faced by people with disabilities, there are many other types of limitations which are often overlooked and which relate to lack of information that can hinder their quality of life.  The materials we have prepared are designed to empower people with disabilities to live fulfilling lives and exercise the right to motherhood and family planning", said UNFPA Representative for Kazakhstan and Country Director for Kyrgyzstan and Turkmenistan Giulia Vallese.
As of the first half of 2018, there were 293,511 women with disabilities living in Kazakhstan. Of these, only half a percent - or 1,467 - become mothers. Unfortunately, such a low rate is not always associated with health reasons.
"The most important question is that we must be accepted and perceived as rights-holders, regardless of whether there is a disability or not. The most important thing is a person, and the human rights inherent in them cannot be taken away. Every woman, despite her disability, has the right to decide whether to have a child, how many children to have, and how often," said Lyazzat Kaltayeva, Chairperson of the "Shyrak" Association of Women with Disabilities.
"This brochure is timely. With the pandemic exacerbating gender inequalities, gender discrimination and gender based violence, addressing the needs of women and girls with disability is an urgent requirement.   These women are particularly vulnerable as they may face a 'double discrimination' because of their gender as well as their disability.[1]   Informing women and girls with disabilities about their reproductive health and rights is a small but important step towards empowering them about their wider life choices," says the British Ambassador to Kazakhstan Mike Gifford.
More on this can be found via hashtag #WeDecide
For more information, please contact Dina Teltayeva via email teltayeva@unfpa.org or tel.: 8701 7654010.
---
[1] From the 2018-2023 UK Strategy for Disability Inclusive Development