UNFPA: Delivering a world where every pregnancy is wanted,
every childbirth is safe and every young person's potential fulfilled.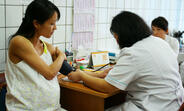 3 June 2012
Effective perinatal care workshop
Taldykorgan - Research center for obstetrics, gynaecology and perinatology with technical support from UNFPA conducted 8 days training course on "Effective perinatal care" and 2 days perinatal regionalization workshop for academic staff and specialists in the Almaty oblast. In the wake of last year analysis on implementation of
25 April 2012
EECA Regional Director field mission to Astana
ASTANA , Kazakhstan –  Thea  Fierens, Eastern Europe and Central Asia Regional Office Director paid her field visit to Kazakhstan Country Office on April 25th, 2012 as part of her exit mission in the region before retirment on June 1st, 2012. During her short visit of the capital Regional Director, accompanied by Nikolai Botev
GBV in Kazakhstan (Russian)

Free oral contraceptives for 15-19-year-old. What does it cost, and what are the benefits...

Gender-based violence (GBV) is one of the most pervasive, under-reported and unaddressed...