Access to information on sexual and reproductive health was one of the key issues raised by young people at a conference with parliamentarians from the five Central Asian countries, which was organized by the Majilis of the Parliament of Kazakhstan, UNFPA, the Asian Forum of Parliamentarians on Population and Development (AFPPD), with the support of the Government of Japan in Almaty on 6-7 June.
conference brought together more than 50 parliamentarians, youth activists, representatives of Governments and civil society to discuss youth policies in Central Asia. The meeting also served to provide input for a regional conference on the future population and development agenda, two decades after the landmark International Conference on Population and Development (ICPD), to be held in Geneva on 1-2 July.
"Special courses on sexual and reproductive health need to be included into formal and informal education strategies," said Rustam Kurmanbayev, a representative of the youth peer education network Y-PEER from the Eastern Kazakhstan oblast.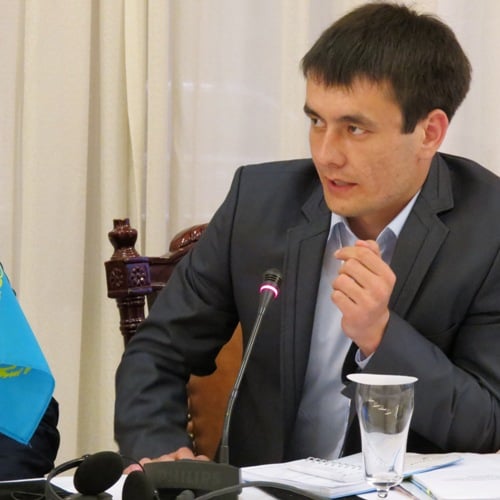 Marta Diavolova, of UNFPA's Regional Office for Eastern Europe and Central Asia, stressed that "teachers are often not enough educated and need to be better prepared to deliver sexual and reproductive health education for today's generation of young people."
There is solid evidence that sexuality education helps teenagers delay their sexual debuts and make responsible decisions about their sexual behaviour, leading to lower teenage birth, abortion and HIV infection rates. 
Other issues discussed at the forum included youth unemployment, migration, and the difficulty girls face in continuing education while being expected to work at home.
Diavolova said a recent survey conducted in the context of a review process on the future of the ICPD agenda revealed that there are often programmes and policies in place, but they lack proper budget allocation. 
Nikolai Botev, the Director of UNPFA's Sub-Regional Office for Central Asia, highlighted the importance of regional mobilization on the eve of the Geneva conference,
"Enabling Choices: Population Priorities for the 21st Century", which will mark the culmination of the ICPD Beyond 2014 process in the region. 
This was echoed by many of the participants. Dastan Kasmamytov, a Y-PEER representative from Kyrgyzstan said:
"We as youth are not a homogeneous group, and we want to be included as full-fledged partners in the global dialogue."
"We all should strengthen our efforts to ensure that sexual and reproductive health issues are interwoven into our national policies," Samakova Aitkul, a member of the Parliament of Kazakhstan and vice-chair of the AFPPD.
In late May, UNFPA also organized a workshop in Istanbul bringing together some 40 youth activists from Europe, Central Asia and North America to develop youth-specific recommendations for the upcoming Geneva conference.