ASTANA , Kazakhstan –  Thea  Fierens, Eastern Europe and Central Asia Regional Office Director paid her field visit to Kazakhstan Country Office on April 25th, 2012 as part of her exit mission in the region before retirment on June 1st, 2012.
During her short visit of the capital Regional Director, accompanied by Nikolai Botev, EECA Sub-Regional Office Director and Alexander Kossukhin, Kazakhstan Assistant Representative, met with key implementing ministries and member of the parliament.
The day started from the meeting with Hon. Nazarbayeva Dariga, Member of the lower chamber of Kazakhstany Parliament. During this meeting Regional Director has underlined the crucial role that MPs can play in social and cultural development of the country. On its part UNFPA supported the idea of involvement of Permanent Committee for Social Cultural Development into the international network of Parliamentarians dealing with population and development.
During the meeting with Ministry of Health, Hon. Kairbekova Salidat Regional Director highlighted accomplishments of Ministry of Health in achieving of Millenium Development Goal # 5, however underlined on more work that needs to be done for improvement of maternal and child health in Kazakhstan. Among joint achievements wih UNFPA Minister of Health pointed increased life expectancy at birth which raised to 69 years in 2011 and more ambitious goal is placed to increase it to 70 years.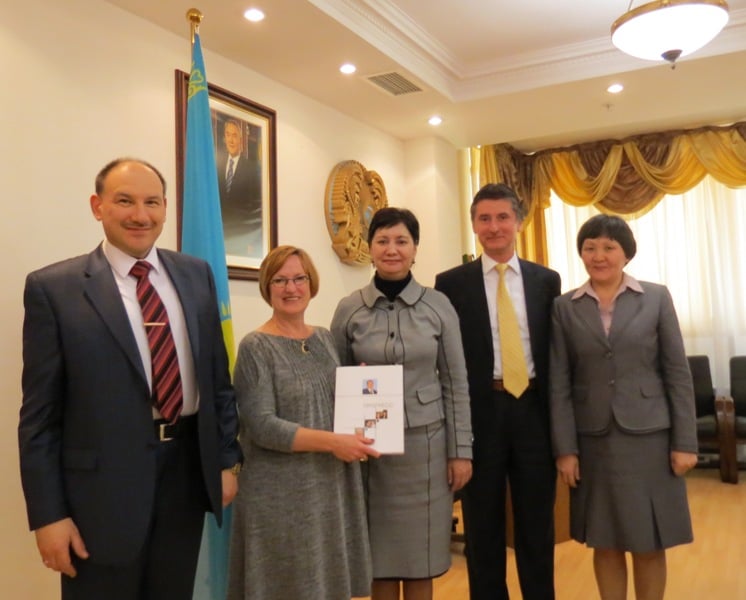 During her meeting with Hon. Gulshara Abdikalikova, Minister of Labour and Social Protection of the Population as well as the Chairperson of National Commission for Women Affairs and Family-Demographical Policy, Regional Director stressed the importance for universal access to sexual and reproductive health, especially those of vulnerable people. Regional director expressed her concern on making legislation to counteract gender-based violence fully operational and contributing to gender equality.
In her intensive schedule Thea also met with the representative of Ministry of Foreign Affairs where she reflected on new UNFPA's leadership, a refined strategic direction for 2012-2013 and, importantly, on the ICPD beyond 2014 review process and its strategic importance for the organization.
Overall Thea's visit to Astana as part of her exit mission to Kazakhstan has been very important enabling to reflect on the accomplishments achieved during these 20 years of UNFPA presence in Kazakhstan.